Declare an Eating-Disorder-Free-Zone
When you're in the process of recovering, it's vitally important that your entire life does not revolve only around your recovery. If it did, you would simply be recreating what it was like when your life revolved around your eating disorder. You are more than your eating disorder and more than your recovery.
Go out with friends who are not intimately involved with your recovery. Go to a movie or the mall. Make plans to go to the zoo, a butterfly garden, an arts and crafts class, or even a theater play. Talk about anything except your recovery and your eating disorder. If you live with your parents, a roommate, or a spouse/significant other, make sure to schedule some time "out" that has nothing to do with your treatment or recovery process. Doing this will reinforce your understanding that you are not your eating disorder. And it is also a wonderful way to discover what it is you like and what you have to share with those around you. It is only then that your true identity is able to emerge.
It's also equally important for your family members to have a life that does not revolve entirely around your recovery. They need their own space in order to maintain their mental and emotional health so that they can be present for you when you need them.
© Life Beyond Your Eating Disorders, Johanna S. Kandel, Harlequin September 2010
*****************************************

Free Book Drawing for Life Beyond Your Eating Disorder
ENTER DRAWING
Please complete the contact form enter Life Beyond Your Eating Disorder in message, and you will automatically be entered into our December 1, 2010 drawing!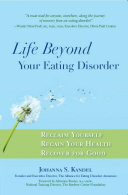 @ Johanna S. Kandel

There is life beyond your eating disorder—and you deserve to enjoy every minute of it. Johanna S. Kandel, founder and executive director of The Alliance for Eating Disorders Awareness, struggled with her eating disorder for ten years before finally getting help. Now fully recovered, Kandel knows firsthand how difficult the healing process can be. Through her work with The Alliance—leading support groups, speaking nationwide and collaborating with professionals in the field—she's developed a set of practical tools to address the everyday challenges of recovery.
Complete with inspiring true stories from others who have won their personal battles with eating disorders, this book provides the help you need to break free from your eating disorder and discover how wonderful life really can be.
Purchase here:
Life Beyond Your Eating Disorder: Reclaim Yourself, Regain Your Health, Recover for Good